Quasi-Corporeal
I needed to extract my body: to dismantle it and to fragment it. It was the only way to wake myself up. As I stood there, my nude body being photographed by a man operating this scanning device, I felt a loss of agency. A resignation and submission that made me somehow feel domesticated, comfortable and . . . familiar.
The results of looking at my body through a computer screen were cathartic. She became a surface to dissect and divide and analyze. She needed to be sectioned and the sections then reconfigured and nested onto another space. An icosahedron. A structure with the highest form of symmetry, as is said in Euclidean geometry. But it's also a three-dimensional structure that Buckminster Fuller projected the world map on. The addition of each one of these horizontal body slices would form a whole. The violent and nonchalant aspect of plane sectioning a body speaks to a similar detachment and separation that occurs in diasporic peoples. But it was also something I needed to do as a woman. The depiction of these cross sections eliminated the "social" in the body for me and reduced it to mere function: object and flesh. It erased the embodied sociocultural experiences that I feel are contingent on our perceptions and views of the world. And so I needed to cleanse my body with water and scrub it down. I needed to erase my old body, and I needed to restore and rebuild it after waking up. Never will I let myself sleep as my brown skin grows back again.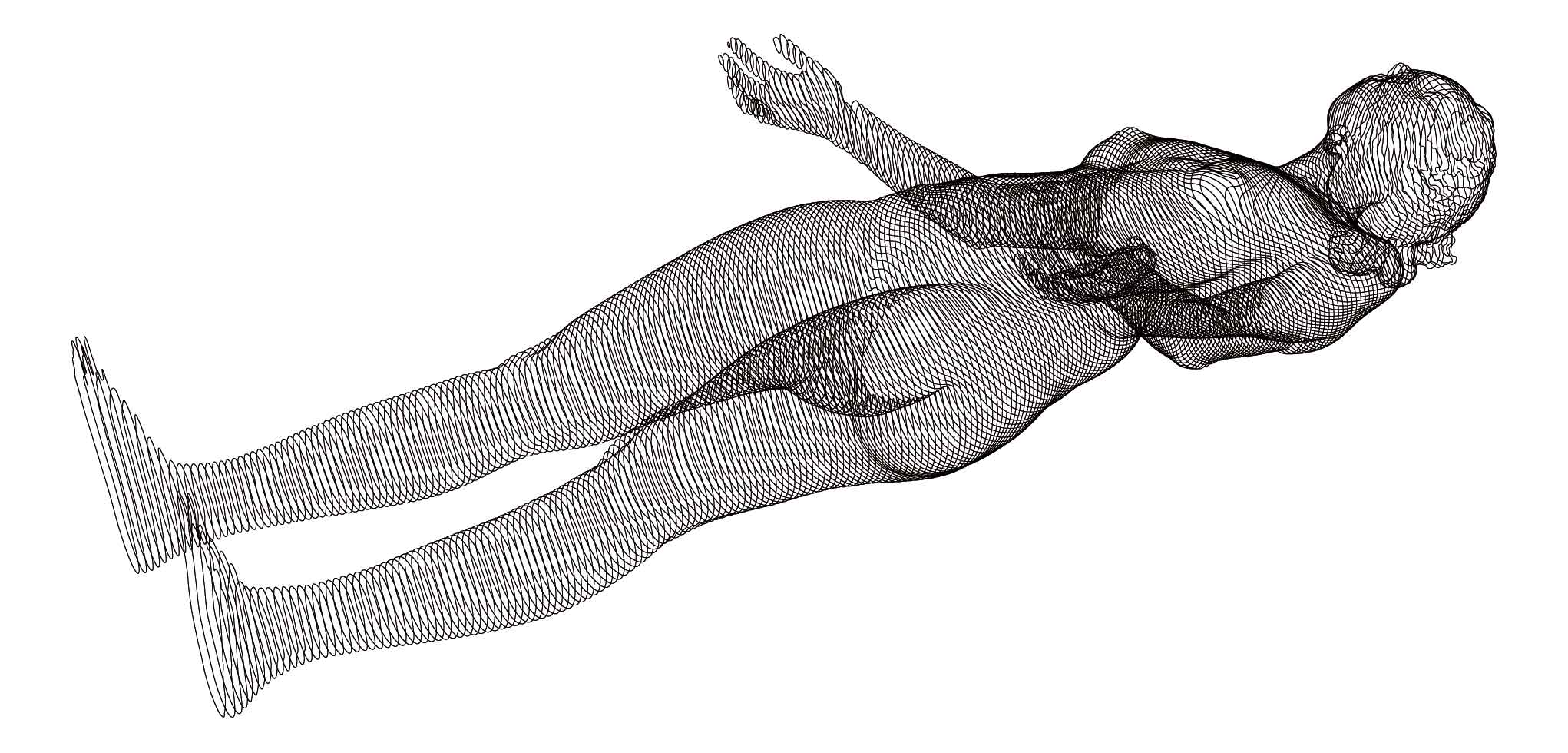 Quasi Corporeal
Wood and aluminum, 2012, 80 "x80″x80"
Icosahedral Body
CnC cut maple wood, 2013, 80″x80″x80″
Corporeal Mappings
Oil on mobile panels, 2011, 80″ x 80″
Mass Assembly
Oil on mobile panels, 2010, 17″x17″x1.5″
Decagram 1.
Oil on panels, 2013, 46 "x46"
Decagram 2.
Oil on panels, 2013, 46 "x46"
Conformal Dissection
Ink and pins on paper, 2011, 50″x40″
Anthropometric View Front and Back
Ink, hair and pins on paper, 2011, 100 "x 70"
Anthropoetric Arch
Ink, hair and pins on paper, 2011, 50 "x 40"
Antropoetric Twin
Ink, hair and pins on paper, 2011, 74 "x 36"
Arm Study
Ink and pins on paper, 2011, 77 "x30"
Mercator
Ink and pins on paper, 2011, 70 "x 38"
Pierce Quincuncial
Ink and pins on paper, 2011,  72 "x 36"